We are delighted to share that the Beast Community has reached its first birthday 🥳. We owe a lot of thanks to our Community for helping Beast grow, run smoothly, and for spreading the word. Read on to learn more about our amazing Community, and get a glimpse of what they love about Beast.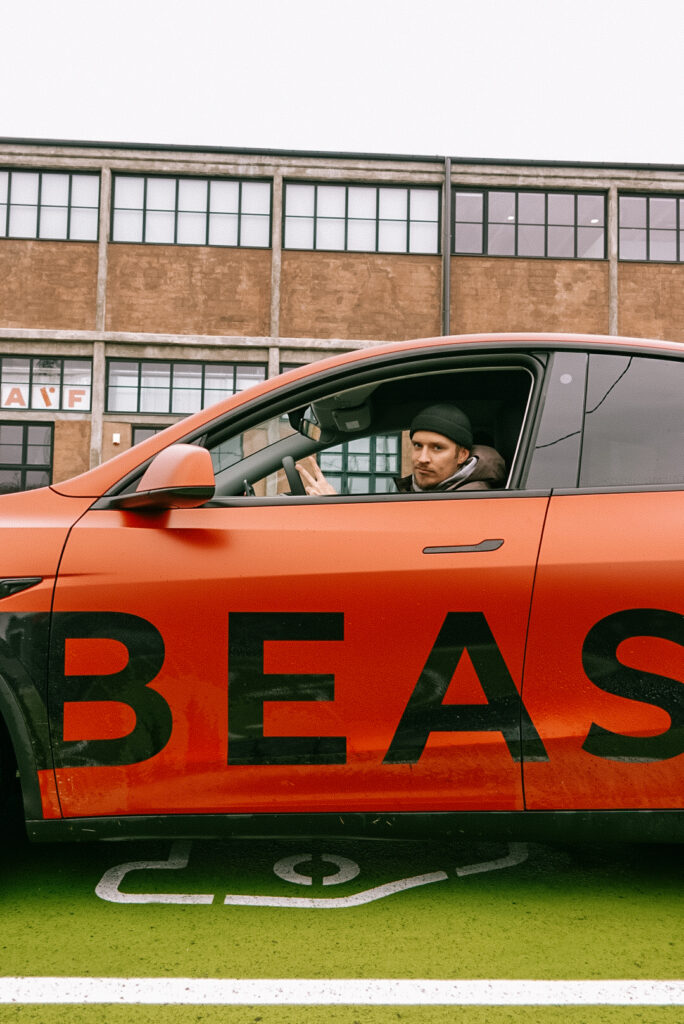 Image credit (left) to Rainer Olbri, aka Metsakutsu.
What is the Beast Community?
We wanted to think outside the box and find a way to transport our vehicles quickly so that wherever Beasts are needed, they are available. Then the idea of the Community came up – why don't we see if any of our loyal users would like to help move our vehicles?
The Community was created, and over the year grew to over 1,500 members. When we need a vehicle moved to a new location quickly, they pick up "Community Missions" and drive our vehicles from one place to another. This is a win-win situation for Beast and our Community. They can travel from city to city in style, free of charge, and earn "Beast Bucks", while Beast has our fleet moved between locations with no hassle and on time. Over the year, the Beast Community has completed a massive 150 missions!
Here you can check out some of the comments we have collected from our Community members about their experiences with Beast:
Driving a Beast Tesla was excellent, but a great experience with Beast came from when I forgot my gloves in the car after a rental and when I realised and called the next day, the team guided me to the car and unlocked the car remotely and my gloves were still there! So a quick and hassle free return of my lost gloves and very helpful service meant definite 5 stars from me! Keep on rocking Beast team!
We had a little trip in spring. Went from Estonia to Finland with ship, then Finland to Riga with plane and after spending a night in Riga, took Tesla and drived back to Tallinn. (Changed one Tesla for another in Pärnu)
Driving this pink beauty and getting all the attention
So far the most memorable experience with Beast has been road trip along the southern coast of Finland with a Model 3 Performance on a glistering May afternoon Never can't get enough of the adrenaline that car brought
Favourite moment was driving the Tesla Model X with my friend from Tallinn to Pärnu and singing karaoke the entire way
Vilnius -> Kaunas for 22€
This far, favorite moment with Beast was driving with Model S from Tallinn to Pärnu. It was a dream for a while. Always happy to use Beast!
The thought that appears everytime: "How did I end up in a spaceship??"
Earlier in spring this year we came to Riga with an airplane and found out that the last bus to Tartu had just left. Then we just opened Beast app and found a Tesla. First time driving a Tesla and straight to 250km of joy. At that time we did not think of any other transportation, just Beast.
Mission from Tallinn to Prague
Easy peasy Riga to Vilnius trip! Just beware the roadworks around Pakruojis
Trip from Vilnius to Ryga. Stay in Ryga over night next day with bus home. Tesla 10, Bus 4 i was even thinking about back home with other Tesla ;D
Definitely a Beast mission from Vilnius to Prague. Such a fantastic memory
My first experienece with Beast rent was when we took out a Model Y for a spin around Tartu. It was my first time driving a Tesla and it was a lot of fun
The loyalty from our Community has been second to none, and they have made the possibility to rent a Beast in Tallinn, Tartu, Pärnu, Riga, Vilnius, Prague, and more, much easier for all of our users.
Think you would like to join the Community? Check it out on Facebook here.
A huge thank you to our amazing Beast Community, from all of us at Beast. Keep rocking 🤘