Imagine driving along a fantastic road that wraps around an incredible island, Iceland, in a top-notch Tesla. This isn't just any road trip—it's a fusion of high-tech travel and some of the most mind-blowing natural sights on the planet. Welcome to the Iceland Ring Road in a Tesla.
The Iceland Ring Road, known as Route 1 or Hringvegur in Icelandic, isn't your average highway. Covering a huge 1,332 kilometers (that's about 828 miles), this road takes you on a full loop around the entire island. Along the way, you'll see everything from stunning waterfalls and bubbling geysers to vast glaciers and volcanic landscapes. It's a route that calls out to explorers, promising a trip through nature's most stunning sights.
But what makes this journey extra special isn't just the breathtaking landscapes or the rich history—it's the fact that you're doing it all in a Tesla. With electric cars becoming the best option to travel sustainably, the Ring Road becomes an exciting playground for eco-conscious adventurers. In this article, we'll guide you through Iceland's natural marvels and dive into what it's like driving them in an electric vehicle, and give you some tips on what to do, where to stay, and where to eat.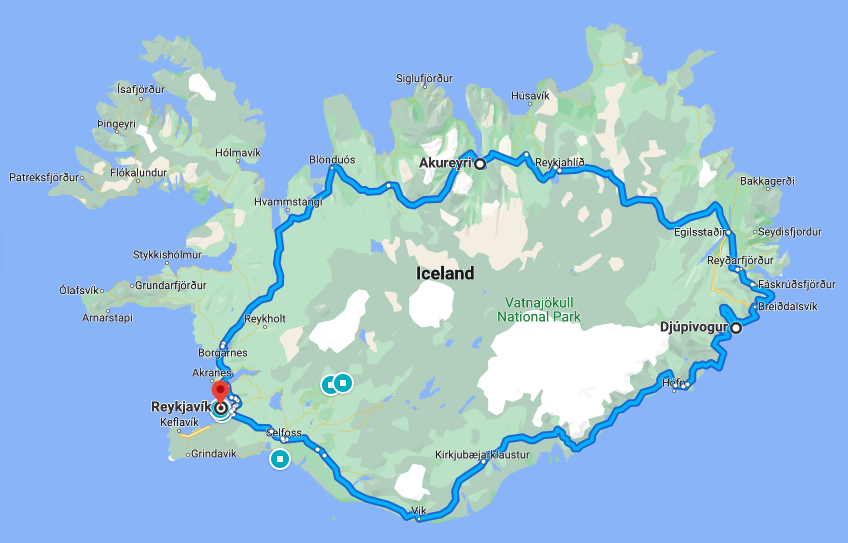 The Iceland Ring Road route, and where to charge your Tesla
The Iceland Ring Road, with its official name Route 1, spans an impressive 1,332 kilometers, forming a complete circuit around the island. This amazing route, winds through diverse landscapes, offering a wide range of natural beauty. But what makes this journey even more fascinating for the eco-conscious traveler is the growing network of EV charging stations along the route. As you navigate the Ring Road in your Tesla, charging stations strategically positioned at intervals ensure a seamless journey, allowing you to appreciate the landscapes without compromising on sustainability. When planning your trip, always check maps like this one to plan where you will stop and charge. If you've never charged a Tesla before, don't worry, you can read through our guide here.
Along the route, you will pass through many different towns, and fishing villages, and there are lots of great places to explore. To keep it easy, we've put together information on what to do, and some ideas for where to stay and eat in three main locations – Reykjavík, Djúpivogur, and Akureyri. Depending on the amount of time you have, you can spend as much time exploring in between these places as you like!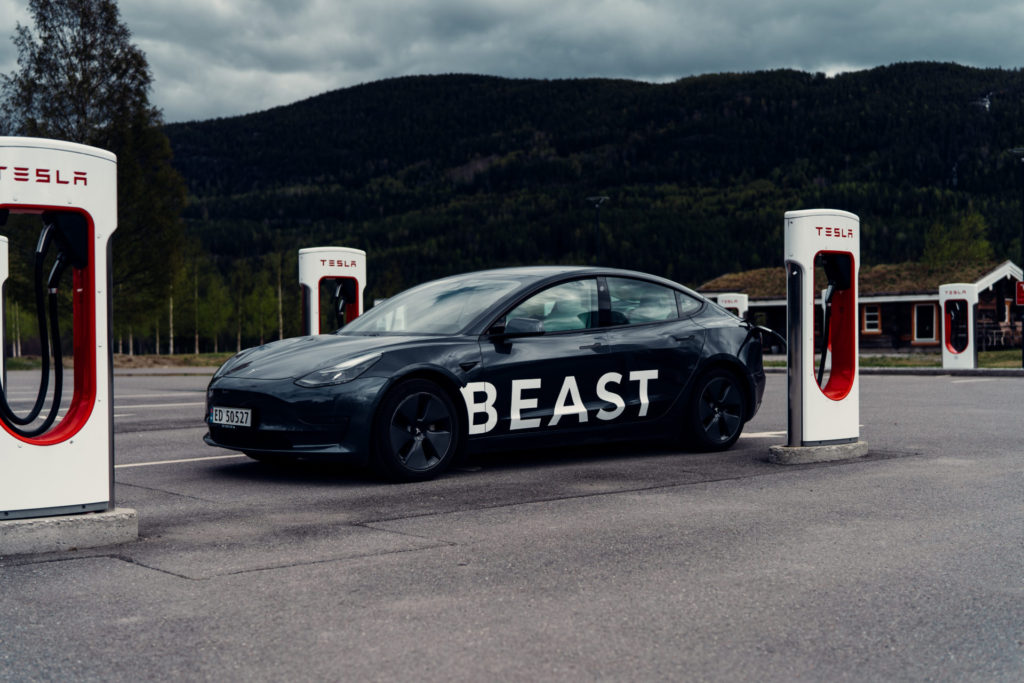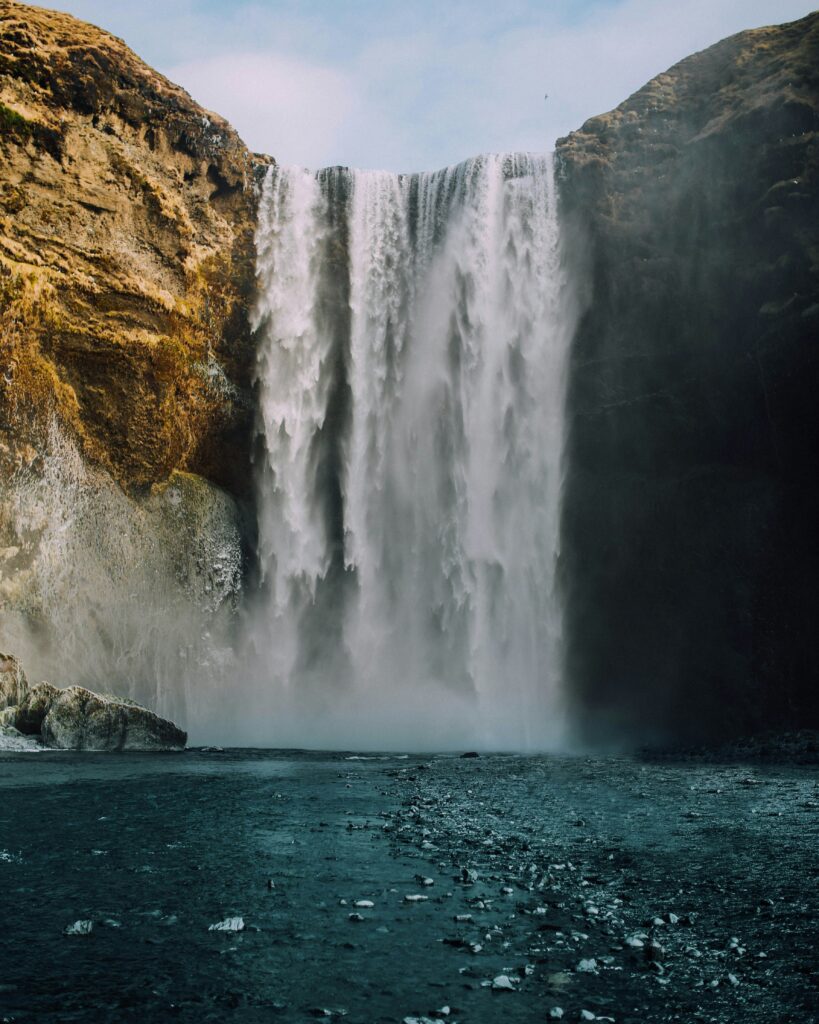 Highlights along the Iceland Ring Road
As you head off from the capital, you'll experience great visuals as you uncover some of the Ring Road's most stunning natural marvels. You will find the enchanting beauty of Seljalandsfoss, where the water forms a shimmering curtain of silver. Experience Skogafoss, a powerful waterfall not to be missed in Icelandic nature. Traverse glaciers that seem to reach the sky, witness the spectacle of volcanic formations and take strolls along black sand beaches that seem to stretch endlessly. Every turn along the Ring Road reveals a new, breathtaking sight.
But the Ring Road isn't just about the nature. It's also a blend of cultural richness that breathes life into Iceland's history. Enjoy beginning and ending in the dynamic city of Reykjavik, where modern life blends with ancient tales. Discover the allure of Akureyri, nestled among mountains and fjords in the north. Immerse yourself in the charm of small fishing villages, where traditions shape daily life. Uncover the stories behind historical sites, connecting with the essence of Iceland as you journey through this diverse cultural landscape.
Activities, adventures, and wildlife
The Ring Road isn't just a scenic drive; it's an invitation to embark on thrilling adventures. Get your hiking boots on and explore trails that lead to hidden waterfalls and panoramic vistas. Get into the heart of glaciers with ice-caving and glacier-walking experiences. When down south near Vik, one recommendation if you're looking for a tour of the ice caves is this Mýrdalsjökull glacier tour.
If it's not too cold while you're there, why not horseback ride through meadows surrounded by towering mountains? When you pass Djúpivogur driving in Eastern Iceland, consider stopping at Skorrahestar, where you can hike, organize a horseback tour, and stay in their guest house. During unforgettable whale-watching excursions, keep your eyes peeled for majestic whales breaking the surface. The Ring Road is a playground for those seeking the perfect blend of adrenaline and peace.
Iceland's unique wildlife gives another layer of enchantment to the Ring Road experience. Spot adorable puffins nesting along coastal cliffs, witness the Arctic fox in the wild, and watch the reindeer trot around the rugged landscapes. Learn about local wildlife conservation efforts, contributing to the preservation of these incredible species that call Iceland home.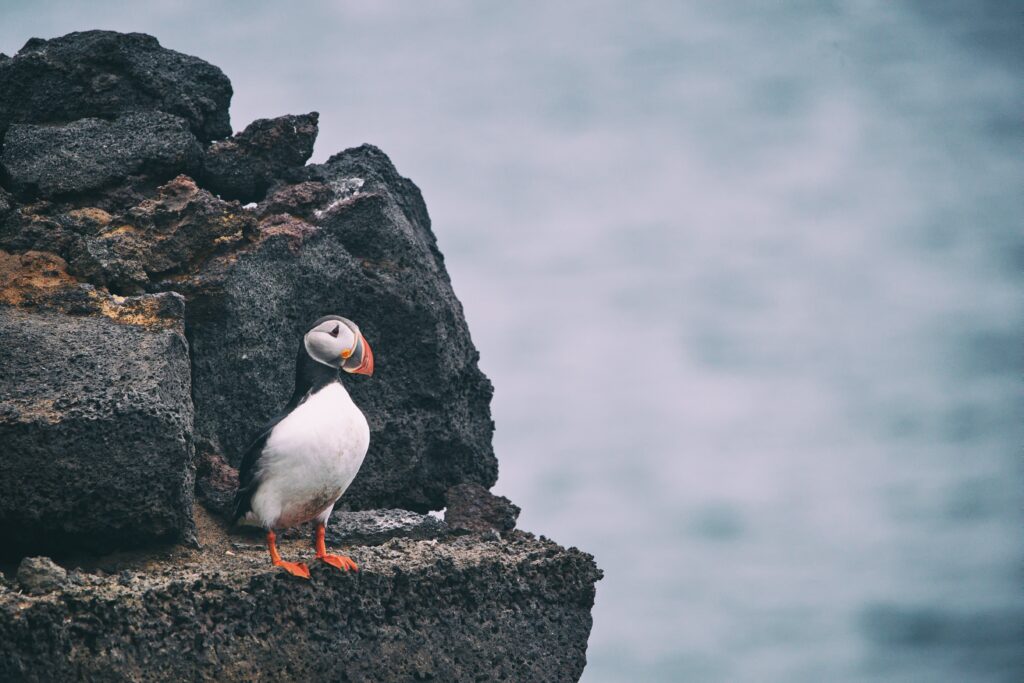 When should you drive the Iceland Ring Road in a Tesla?
As you plan your Ring Road adventure, understanding Iceland's ever-changing weather is crucial. Discover the best times to visit, considering the unique characteristics of each season. From the unbelievable Northern Lights in winter to the endless days of the Midnight Sun in summer, every season unveils a different piece of Iceland's beauty. Wonder how your Tesla will perform in the unpredictable weather? Don't worry, Tesla vehicles are designed to enhance your cold-weather driving experience. Make sure to read through these winter driving tips from Tesla, to see how you can make the most of your vehicle on the Iceland Ring Road.
Make sure to stay informed about road conditions, closures, and seasonal limitations. Understand road signs and prepare for the unexpected to ensure a smooth and enjoyable journey.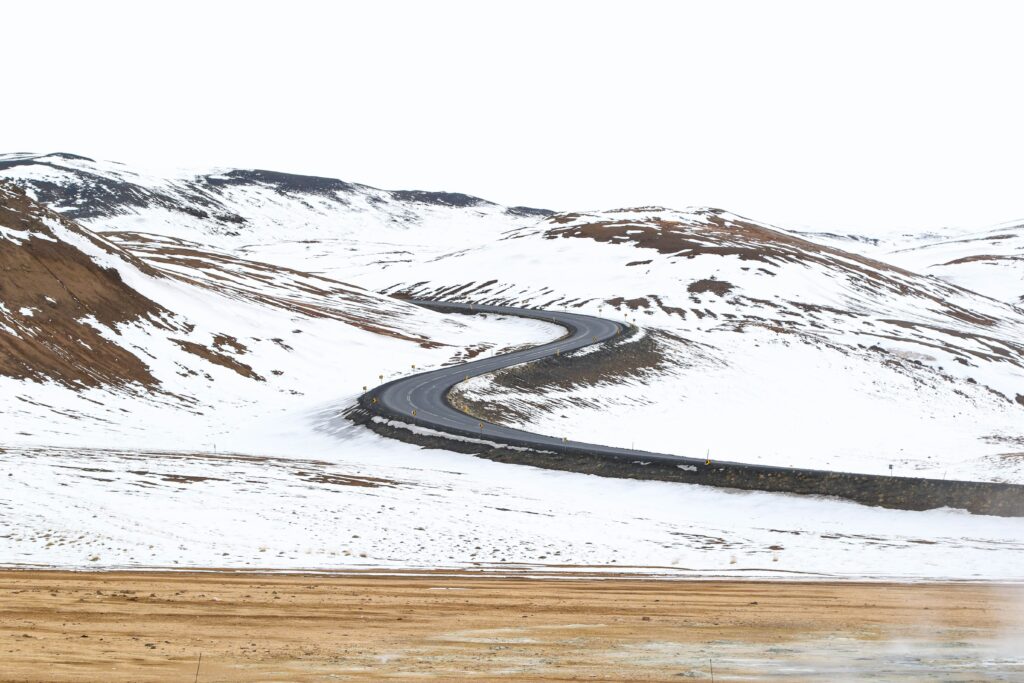 Eating, drinking, and where to stay
Whether you decide to camp in your Tesla or not, you'll need to find somewhere to rest your head. There's a huge variety of accommodations along the Ring Road, ranging from picturesque campsites right in nature to luxurious hotels offering panoramic views. You can find places to eat along the way, savoring traditional Icelandic cuisine and local specialties. Here we've picked out some options for accommodation, and some restaurants to try in Reykjavík, Djúpivogur, and Akureyri:
Reykjavík
If you're going to spend some time in the capital before heading off, the Tower Suites offer fantastic views from luxury accommodation. Another great option if you are looking for a hotel is the Ion City Hotel. Or if you're looking to camp in a Tesla, you should check out the Reykjavík Eco Campsite. You can book to stay in Reykjavík the day you arrive, or when you get back.
If you're looking for lunch or dinner, there's a lot going on in Reykjavík. To taste some beautiful, fresh seafood, we would recommend heading to Brút. If after a long day travelling there's nothing you crave more than a burger and beer, check out Le Kock.
Djúpivogur
On the Eastern side of Iceland, you'll find your way to Djúpivogur. It's about a 7.5-hour drive to go straight from the capital, but you'll likely make some stops on your way. Krákhamar Apartments is the perfect place to stay when you're here, with an amazing location and stunning views.
To get a taste of some local food in Djúpivogur, head to the restaurant at the Hótel Framtíð. Or if you're in the mood for some fast food and a few drinks, you can head to Vid Voginn.
Akureyri
You've made it up North, and it's time to fill your stomach and find a place to sleep in Akureyri. One option for you is Akuyeri, with plenty of room options to suit your needs and fantastic views. For those of you looking to stay in your Tesla, Hamrar campsite has all of the services and facilities you will need.
For dinner, Akureyri has plenty of different options. Why not treat yourself to some Japanese fine dining at Rub23? Or, if you have a sweet tooth, you have to go to Blaa Kannan and taste some of their many delicious cakes.
What are you waiting for?
Driving the Iceland Ring Road in a Tesla isn't your typical road trip; it's a journey that changes the way you see things, blending eco-friendliness with adventure. As you drive through the landscapes, charging stations and amazing natural sights become stops on an incredible adventure. The Ring Road, with its mix of culture, exciting things to do, and diverse wildlife, is simply amazing. So, power up your Tesla, and let the Iceland Ring Road reshape how you think about exploring.