Welcome to the S01E01 of the Teslaverse. I know what you're thinking – a what now? To put it simply, the Teslaverse is going to be your monthly dose of Tesla news. Now, Beast wishes to take all the credit, but the real hero behind this project is Jaan from The EV Universe. He's on a mission to connect the whole EV ecosystem into one and make it accessible to everyone.
Now, before we jump into episode 1, here's what I need you to know:
This blog post is a quick overview of Teslaverse #1. You may call it a trailer, or episode highlights. If you wish to have more comprehensive info we recommend switching your tab to Teslaverse #1: Tesla now and how it got here — price wars — Model Y best-selling car in Europe.
But if you chose to stay and get a quick overview, then here we go…
Where is Tesla today?
First things first, here's a pretty cool fact: Tesla sold every ~62nd light-duty vehicle sold on our planet in 2022.
A few more: Out of 81 million light-duty vehicles sold in 2022,
7,657,277 (9.45%) were battery-electric (BEVs). Or simply put, every 10th car sold was fully electric.
Out of the 7.66M BEVs, 1,313,851 (17.2%) was sold by Tesla. Or simply put, every 6th fully electric car sold last year was a Tesla.

Here's how the 1.3M was divided among the S3XY models:
Model Y became the 4th best-selling passenger vehicle in the world in 2022 (link). Toyota Corolla, RAV4, and Ford F-series were the only ones ahead.
In Europe, Tesla Model Y was the best-selling car (of any fuel type) in September and November of 2022, and now took the #1 spot for the whole of Q1 this year! (link)
In Q1 2023, Tesla produced 440,808 cars and aims to make around 1.8M vehicles in 2023. Musk has also stated that the goal is to build 10-12 Gigafactories, capable of building 1.5M-2M units per year
Here are a few more numbers for you to know where we currently are on the charging side: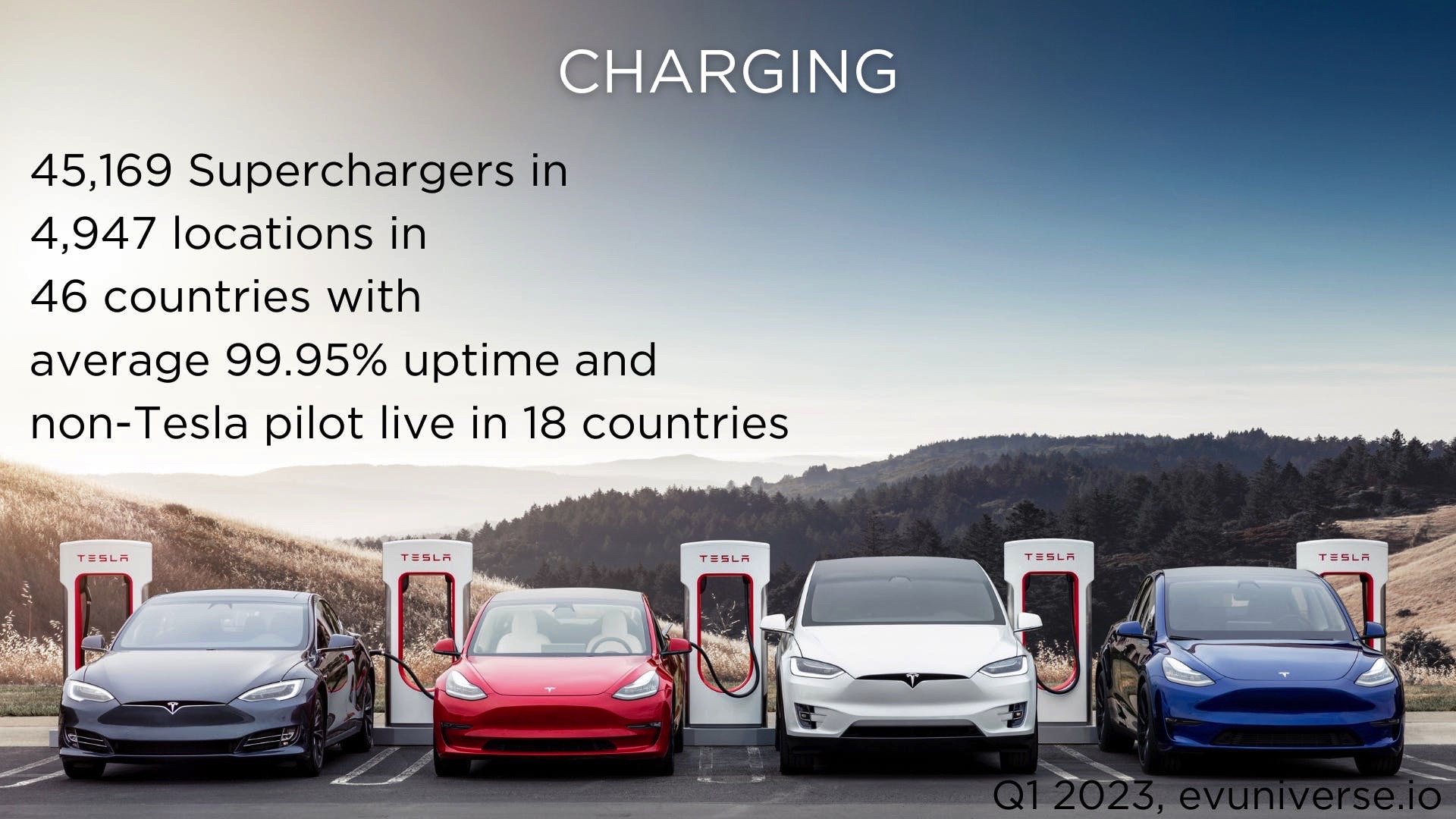 Tesla is currently opening a new Supercharger site globally every ~13 hours on average.
Tour-De-Teslaverse
Aka some of the most important, or curious, news from the past month.
Tesla price cuts have drawn most of the EV industry into a price war. For example, between January and mid-April, Tesla had dropped Model Y prices up to -24% from their high in January, Model 3 -by 14%, Model S -by 19%, and Model X by -21%.
"So many well-off critics don't understand that demand at scale is limited by affordability.​ There is plenty of demand for our products, but if the price is more money than people have, that demand is irrelevant."

Musk
A refreshed Model 3, called "Project Highland" in-house, is now spotted without camo (link). With new headlights, looks like no foglights (or integrated), no ultrasonic sensors, and no logo on the hood. Plenty of other updates are expected (link). Highland should go into production this September. Tesla Model Y will reportedly also get a refresh with Project Jupiter, starting in Oct 2024 (link)
Tesla Cybertruck testing suspension at the Fremont factory (drone video). You can also see the "Giga Wiper" of the Cybertruck in action with this drone video of CT wind tunnel testing (drone video). Tesla has exactly 70 jobs open right now to work on the Cybertruck in Austin, Texas (link). Meanwhile, we got more Cybertruck spottings (photos)

Giga South Korea? President of South Korea, Yoon Suk Yeol, met with Elon Musk during his US visit and 'asked' for Tesla investment in a gigafactory in South Korea. (link) Yeol said:
"Should Tesla decide to invest, we will provide active support in terms of location, workforce, and taxes."
Musk reportedly responded that he expects to pay a visit to South Korea, saying the country remains an interesting and leading candidate to host a gigafactory.
A fun find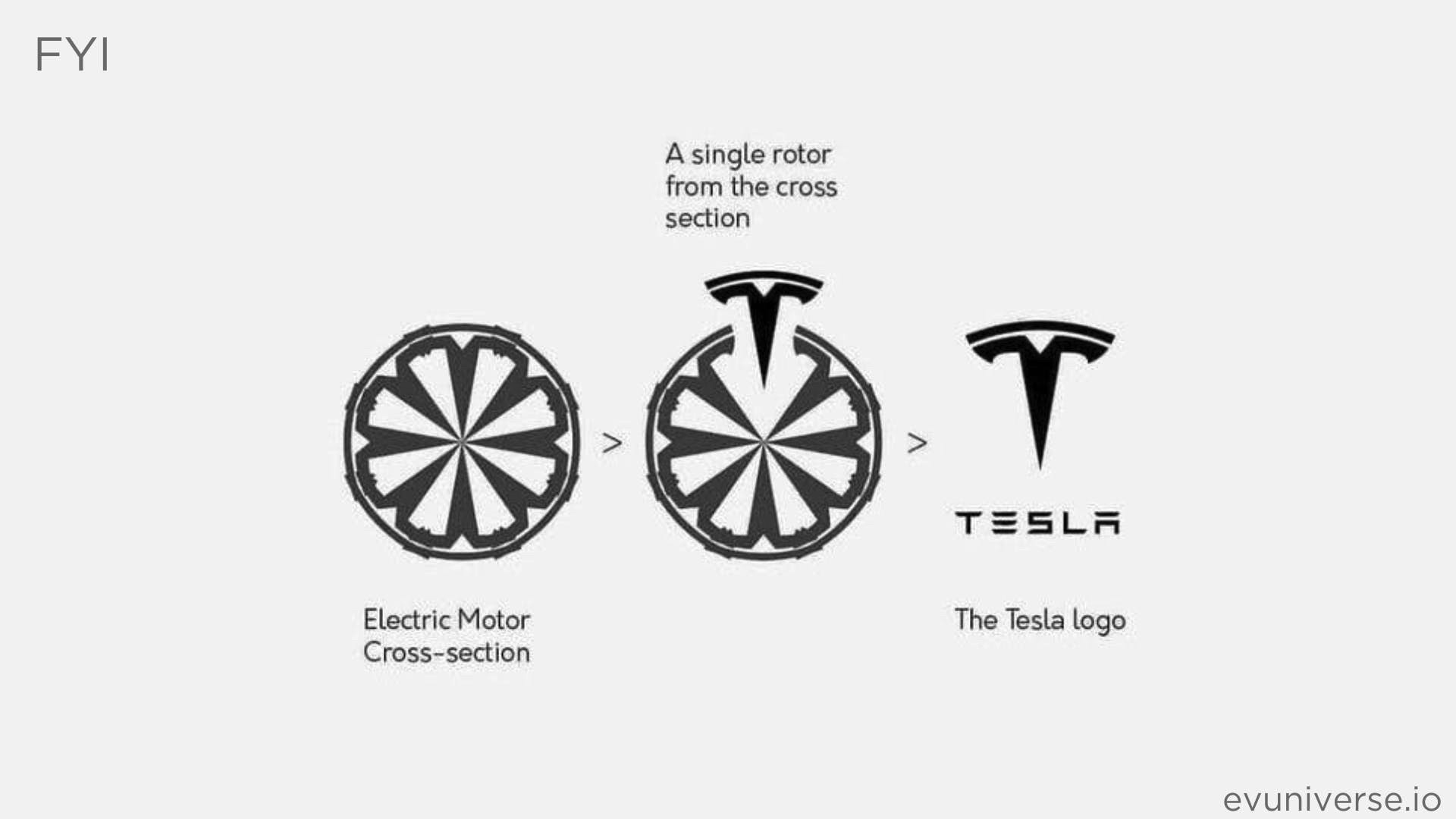 We hope you enjoyed this first Teslaverse!
Episode 2 will be out in a month, so we do recommend keeping an eye on our blog section or subscribing to The EV Universe newsletter.
Huge thanks to Jaan for producing our Teslaverse #1.