Taking a road trip in Iceland is on many people's bucket lists, and taking a trip through Southern Iceland is like stepping into a world of natural wonders. With rugged coastlines, breathtaking waterfalls, glaciers, and geysers, this region is a paradise for adventure seekers and nature enthusiasts alike. Why not rent a Tesla and make it an even more awesome experience?
There is a huge amount to see in Iceland, so we have decided to break it up into separate regions, so no matter how much time you have you can go on a crazy cool experience riding a Beast around this amazing country. In this article, we'll take you on a virtual journey through some of the most captivating road trip hot spots in Southern Iceland, and give you a taste of what it could be like using Beast to rent a Tesla in Iceland. We'll start with where most visits to the island begin – Reykjavik.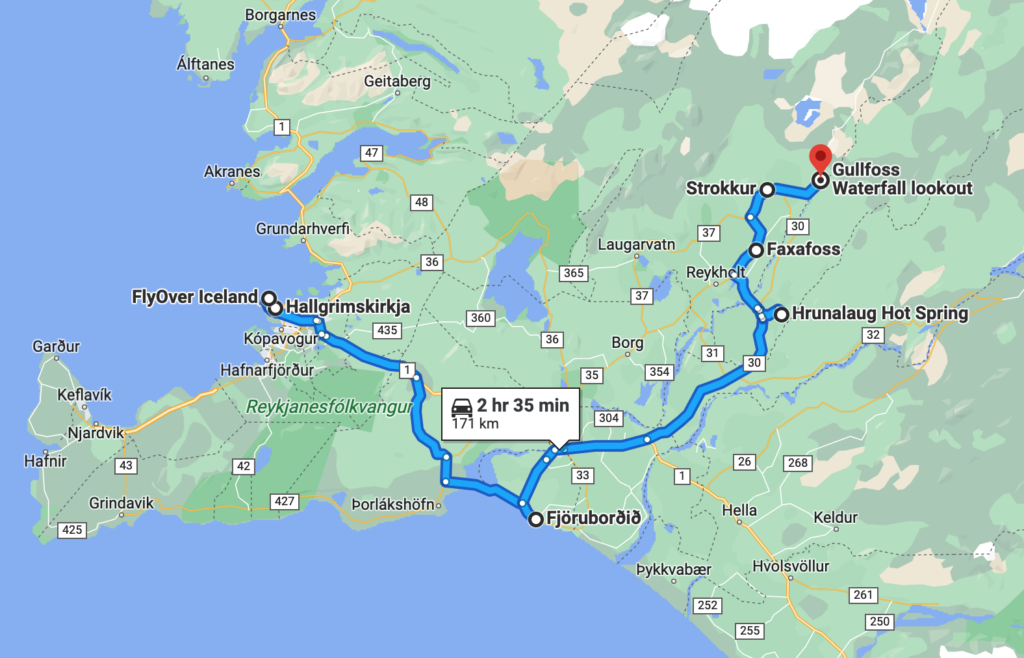 Cruise around Reykjavik before taking off
Pretty much any road trip in Iceland is going to start in the country's capital, Reykjavik. With a population of just over 120,000, the city is the biggest in Iceland, but not overwhelming by any stretch.
There are a few must-sees around the city before you take off on your road trip around Southern Iceland. Flyover Iceland gives you a simulated flight through the entire country. Especially if you only have time to take a trip around Southern Iceland, this is a great way to experience any of the nature you might miss.
Next, you can head into the city center, where you can check out Hallgrimskirkja – a cathedral and key landmark in the city, before heading for a quick dip at Sundhöllin, the public baths. This one you definitely shouldn't miss, it's not every day you get the chance to take a dip in a Reykjavik rooftop hot tub. And of course, make sure to take some time and check out The Icelandic Phallological Museum – a museum that takes its subject seriously and leaves you with a wealth of information you didn't know you needed.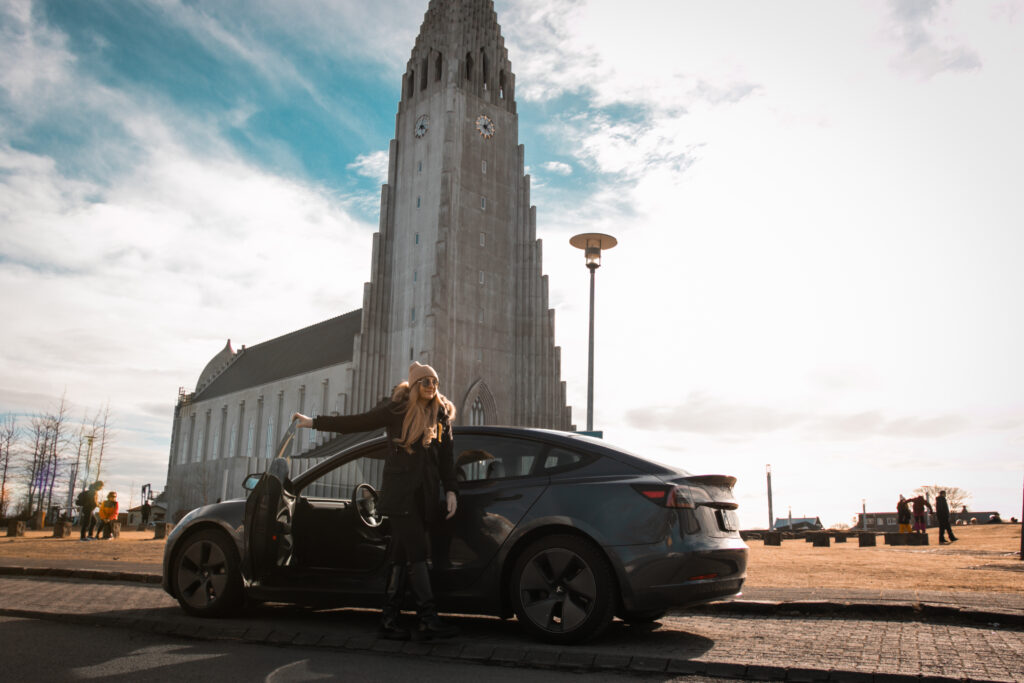 The journey begins: Start your road trip in Iceland with a delicious lunch
You've spent some time in Reykjavik seeing the sights, now it's time to head off on an epic journey around Southern Iceland. For any road trip, you need to have a full stomach though. So to start, why not head down to the Southern coast, and get ready for your trip with a meal at Fjörborðið. Famous for its fresh seafood soup and langoustine tails, it's the perfect place to fill up with some local food and take in the breathtaking views before heading off into Icelandic nature.
Hot springs, waterfalls, and guisers: Heading North
After filling up at Fjörborðið, it's time to head north, embrace yourself in nature, and kick off the next leg of your road trip in Iceland. Southern Iceland has plenty to see, and you can take as much time as you like cruising from place to place in your Tesla. To begin your journey, why not head straight to a hot spring?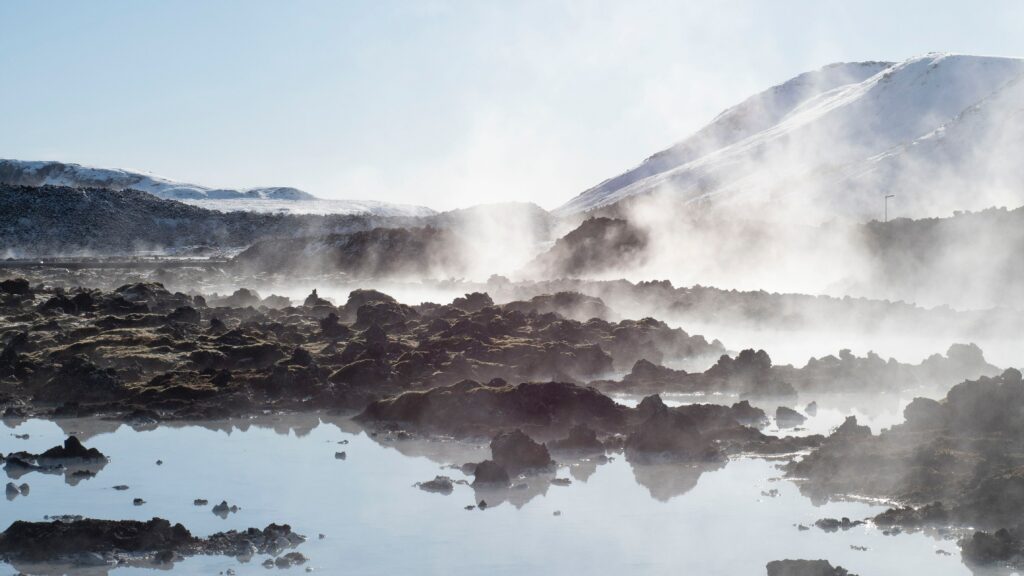 One of the biggest draws for anyone going to Iceland is the natural hot springs and geysers and for good reason. If you're looking to try out a hot spring and relax, one we recommend is the Hrunalaug Hot Spring. Hrunalaug is just under an hour's drive from Fjörborðið, or if you were to go straight from Reykjavík it would be just under 1.5 hours. Hrunalaug is a natural hot spring near a village called Flúðir. There are three natural springs with water between 37°-38°C. Why not go for a nice warm dip in the middle of nowhere?
For an epic trail into nature, and to check out some waterfalls you should definitely head to Faxafoss (aka Faxi Waterfall). It's not the highest waterfall you will find, but it is breathtakingly wide, and by heading into the park you get an up-close view of it. Just note that there is a fee to enter the park (approximately 700ISK/4.8EUR).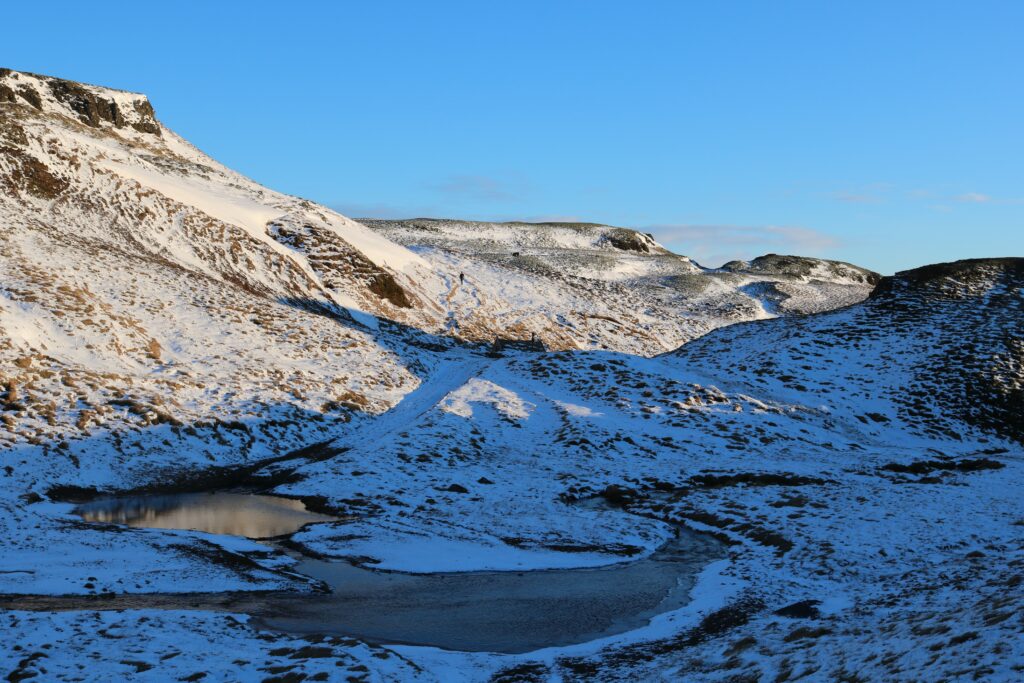 You have two stops left on your epic road trip in Southern Iceland – Strokkur, and the Gullfoss Waterfall lookout.
Strokkur is just north of Faxafoss and is a major draw for all tourists. This geothermal geyser erupts every 8-10 minutes, so you won't miss out. It reaches heights of 20 meters, so believe us – you won't be disappointed.
Continue driving for just another 10 minutes and you will reach the Gullfoss Waterfall Lookout. This is where we end our road trip around Southern Iceland, and it's a truly incredible place. Easy to reach and get around, you get astonishing views from the lookout point. It's the perfect place to take in the beauty of Icelandic nature.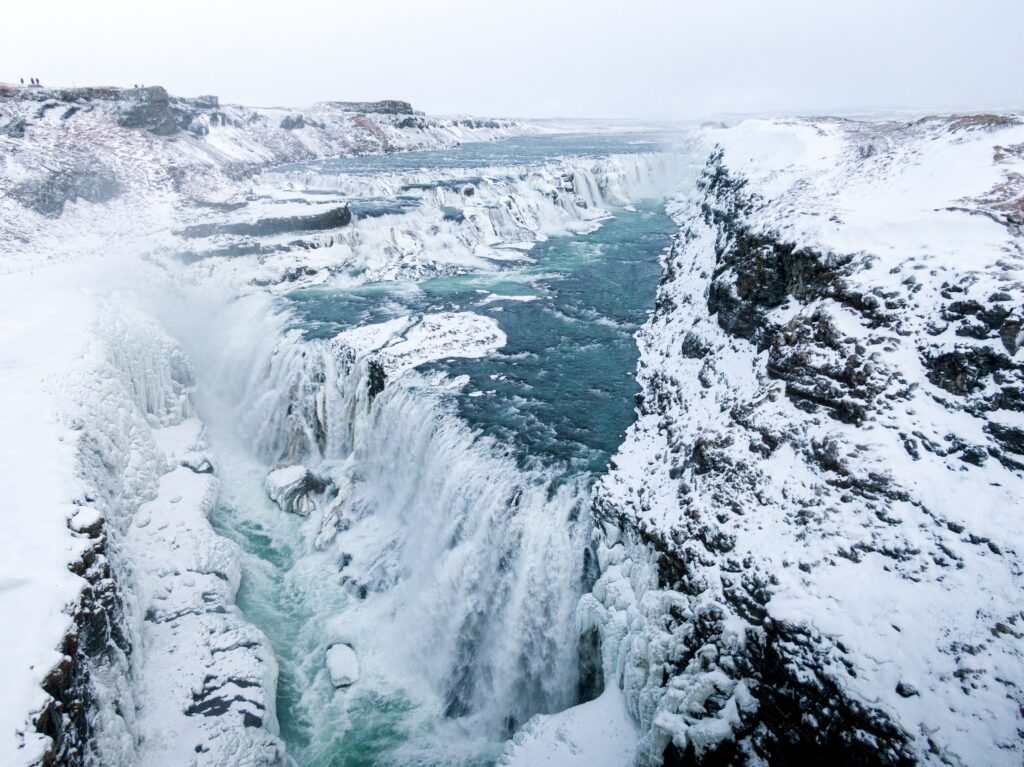 Where should you stay? Camping in a Tesla?
We have picked out two options for where you can stay on your Iceland road trip. Both of these options are along the trail we have set out for you above, and are easily reachable in less than 1.5 hours of any mentioned destinations.
The first one is Solheimar Eco-Village. Part of a sustainable community made up of around 100 residents, Solheimar is a great option for those looking for something a little different. With a range of different room options, you're sure to find something you like. While you're there you can relax, eat, and learn about the community.
The second option is a campsite which is the perfect place if you're camping in a Tesla on your road trip in Iceland. Hraunborgir Campsite is located just over an hour's drive from Reykjavík, and has all the facilities you need when camping – electricity, games, food, drink, and of course – hot tubs. Be sure to check it out if you're looking to go camping in Iceland. The cost is approximately 5000ISK(35EUR) per vehicle per day.
Want to rent a Tesla for your road trip in Iceland?
Renting a Tesla in Iceland has become a whole lot easier thanks to Beast. Having recently launched in Iceland, you can pre-book in advance. Pre-booking a Beast for your Iceland road trip gives you some great benefits. You won't need to wait in line to collect your car, you don't need to collect keys, and there's no deposit when pre-booking.